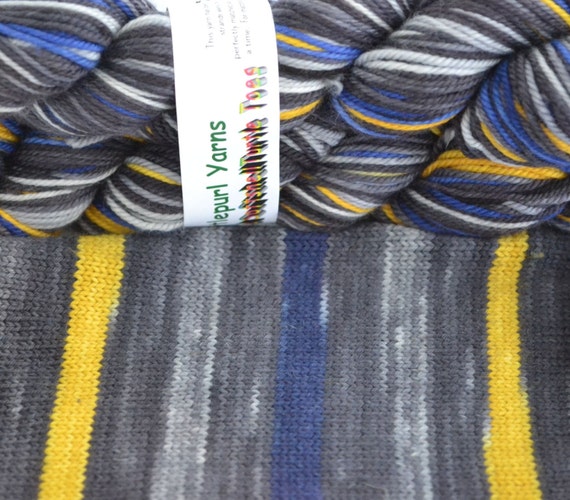 I have a new weaving project to share with you today! The Seven Countries Scarf started as inspiration from others using self-striping sock yarn as both the warp and weft in handwoven scarves. I was looking to add some yellow to my scarf collection, and wanted it to coordinate with navy and black pieces, so I found this perfect yarn: -->
Turtlepurl Yarns (
Click Here to find her Etsy Page
) makes this fabulous hand-dyed yarn, and the colors of the stripes were just what I was looking for. This is fingerling weight yarn, composed of 70% superwash merino, 20% cashmere, and 10% nylon. It has a fabulous softness! She winds two separate hanks, allowing you to make two identical-striping socks easily. Very nice!
But I wasn't going to make socks with this one. I paired this yarn with a hank of
Malabrigo Lace
in colorway Cadmiun (a lovely tonal yellow). Now this is a lace weight yarn, of course you knew that by the name, right? To be brutally honest, I had a lot of trouble finding fingerling weight yarn to match the Turtlepurl yarn I had, and this malabrigo coordinated perfectly, so I just went with it. I was wanting a lightweight scarf anyway, and figured the smaller gauge yarn wouldn't hurt.
I held both the multi colored yarn and the solid yellow lace yarn together as I measured on the warping board, and then threaded the reed multi-solid-multi-solid. One shaft held all multi yarns, the other had all the yellow. Then it was fast plainweave from there. (I used only the Turtlepurl yarns in the weft) From warping board measurements to trimming the fringe, this project took only about 8 hours, I did it all in one day!
Oh and are your curious about the title? I named it "Seven Countries Scarf" because I'm adding scarves to my collection to go with me on an upcoming European vacation, where we will be touring seven countries. Hoping to put some serious miles on this scarf!
For my measurements and details so you can make your own, click
HERE
for my Record Sheet PDF.